KORONADAL CITY – Senior officials of Department of Social Welfare and Development said senior high school graduates covered by the state's anti-poverty program proved poverty not a hindrance in finishing their studies.
DSWD 12 assistant regional director for administration Jackia Lao said the agency puts high hopes this year's graduates will continue their in getting college degree with the assistance from the state.
In Central Mindanao, around thirteen thousand students covered by the state's Conditional Cash Transfer in graduated this year under K-12 program.
Based on the agency's data at least 2,298 Senior High School students graduated in the province of Sultan Kudarat; 3,384 in South Cotabato;  1,812 in Sarangani;  4,406 for North Cotabato; 580 in Cotabato City; and 183 in Marawi City in Lanao del Sur.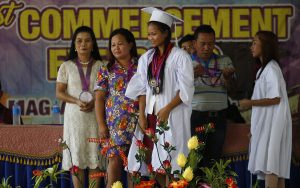 "We are very happy for the achievements of our students. They did not waste the people's money," ARD Lao said.
DSWD Officer-in-Charge Emmanuel A. Leyco said the graduates have proven that poverty is not always a hindrance in the way one's effort  to secure an education.
"All of us in the department are very happy because of the determination and hard work shown by Pantawid Pamilya children to finish their education," Sec. Leyco said.
For those who will graduate from the Senior High School program, the OIC reminded that there are available government programs for them to continue their college education through the Commission on Higher Education as well vocational training to improve their skills such as those offered by the Department of Labor and Employment and the Technical Education and Skills Development Authority.
"We would like to remind the graduates to continue to persevere and dream. There are many challenges in life, but these should not stop you from improving yourselves)," the DSWD OIC said.
The K-12 program, fully implemented in 2016 by the previous administration, dictates a year of kindergarten, six years of elementary school, four years of junior high school, and two years of senior high school.
The program aims to make the country's education system at par with other more developed countries, despite additional cost to families and problems on educational infrastructure. (End)