KORONADAL CITY — The Department of Social Welfare and Development (DSWD) called on Tuesday all senior high school and college graduate job hunters in Central Mindanao to lock themselves in for a two-day job fair next month in General Santos City.
Bai Zorahayda T. Taha, DSWD-12 regional director, said the Department of Labor and Employment (DOLE),  through the Bureau of Local Government employment, is forging partnership with the department to provide employment assistance to 4Ps beneficiaries, especially to the
Expanded Students Grants-in-Aid Program for Poverty Alleviation (ESGPPA) grantees of Pantawid Pamilyang Pilipino Program.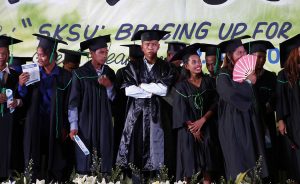 The ESGPPA aims to contribute in the increase of the number of enrolment in higher education in line with the national government's priority degree programs among poor households, and support college graduates' entry to labor markets through placement assistance.
A student-grantee receives a maximum of Php 60,000.00 scholarship grant per school year or P 30,000.00 per semester. This is broken down to Php20,000 per year for the tuition fee, and Php5,000 per year for the textbooks and other learning materials.
The remaining Php35,000, which is distributed to Php3,500 per month, is allocated for the stipend for the board and lodging, transportation, clothing, health/medical needs, basic school supplies and other related costs.
"On 1 May 2018, during the observance of the National Labor Day, the DOLE will again hold a nationwide job fair. A special lane for the 4Ps beneficiaries and ESGPPA grantees will be provided to assist them. Relative to this, may we seek your assistance in the dissemination of the above mentioned activity," Dir. Taha said.
"The DOLE proposed to provided employment assistance to CCT and ESGP-PA grantees by setting express lanes at job fair areas nation-wide on May 1-2," she added.
For her part, Gemma Rivera, DSWD -12 assistanT regional director,  said all  senior high school and ESGP-PA grantees who have internet access are advised to sign in on https://philjobnet.gov.ph/ and pre-register on the job fairs in their respective areas.
"Beneficiaries who do not have internet access would fill put the National Skills Registration Form 1 or "Jobseekers Registration Form and present said form during the activity.
Bonifacio Selma, DSWD 12 promotive services division chief, said the venue of upcoming job fair is SM General Santos City.
Interested job seekers, according to Selma, can ask for further details from DOLE 12 representative Ruby Carasso at 09202192338 or Kathleen Turnos at 0910 2540245. (JBM/DSWD)