KORONADAL CITY – The Department of Social Welfare and Development (DSWD) Supplementary Feeding Program in Central Mindanao makes it to the list, with three major awards, in effort to fight malnutrition among children.
Juliet Clavel, DSWD 12 head of community based section, reported Monday the region got Rank 1 for Highest Utilization in Financial Utilization nationwide, Rank 5 with 112.05% Served Children Beneficiaries nationwide, and Rank 4 for Nutritional Status Impact nationwide.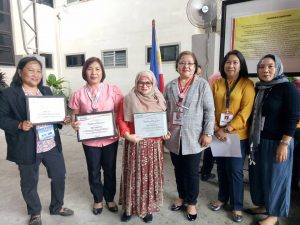 "We are thankful for the support of our co-worker. Our awards would not be possible without them," she said.
Clavel said the awards was received by Merilyn Guerra, Nutritionist Diatecian III and Supplementary Feeding Program staff during the Program Review and Evaluation Workshop in Tuguegarao City last week.
Dennis Domingo, DSWD 12 regional information officer, said the awards were based on last year performance.
Lenny Lanaodo, 31, said her three-year-old son was considered malnourished when she enrolled in the day care center in this city.
Lanaodo said she was thankful the health condition of her son improved after six months.
DSWD's Supplementary Feeding Program is the provision of food in addition to the regular meals to children currently enrolled in the day care centers as part of the DSWD's contribution to the Early Childhood Care and Development program of the government.
Under SFP, children in the morning play and learning session will be provided with an alternative meal consisting of a heavy snack. This will be served before the session, and then a hot meal will be served after the session. For the afternoon session, hot meals will be served upon the arrival of the children followed by an alternative meal. (DSWD/ JBM)