LUTAYAN, SULTAN KUDARAT — The town's gymnasium swirled with black- and-green graduation gowns. Everything were all set.
But for the son of a street sweeper, 21-year-old Raymart Cabading, the loud music of their graduation march played inside the gym only shows the end of the tunnel for his sufferings.
Despite being poor, Cabading, did not give up his vision to beat the odds. To prove that a poor student from the other side of the country can get a college degree.
At some point in his life, he recalled that he stopped going to school to help his mother make money to support their financial needs by working as a street sweeper in Koronadal City, waking up at 2:00 a.m. to clean four hundred to six hundred meters of highway.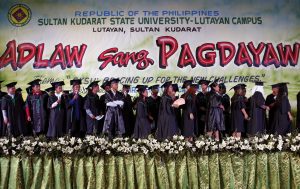 On March 29, Cabading brought and offered his parents the gift and fruit of his four year's sufferings.
Taking up Bachelor of Science in Agriculture Technology at Sultan Kudarat State University satellite campus here, he formally finished his college with a prestigious Latin honor, cum laude.
"I worked along with my mother in the streets for two months in Koronadal City as sweeper. I don't have any desires of getting a college degree before because of our status in life," Cabading said.
"I even stopped going to school during my high school days. But I realized that our status in life should not hinder me from pursuing my dreams," he added.
In his speech during their graduation, Cabading recognized the hardship endured by his parents, Rizalde and Carmelita, saying they never left him in his dark days.
"Ma…Pa… I love you. I'm here right now in front of you. Although we are being criticized because of our status in life, both of you believed that it's not a hindrance. Thank you for the life that you've given me," he said.
"Above all to Allah/God for giving me wisdom, strength, passion, skills and everything around me. Without Him, we ate nothing," he added.
Cabading said he will begin searching for a job next month to help his family.
Dr. Junito Marcelino, SKSU Campus director, described Cabading a down to earth and respectful student.
"For me he (Cabading) is the type of employees needed by our government," Marcelino said.
Like Cabading, his schoolmate, Kristina Caso from nearby town of Tupi in South Cotabato, broke down in tear after their graduation rites as she claimed optimistic of getting a job soon to uplift the life of her family.
Caso, a B'laan native, said her only dreams was to help and get her family out of poverty.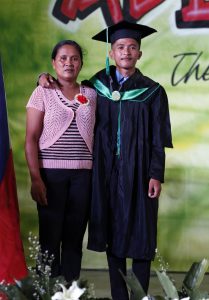 "I struggled with every aspect of my high school and college life," she said.
"Since my first year high school, I'm a working student. I survived all the hardship and sufferings of high school and college days. I keep on saying to my self every hardship in life will soon bear good fruits," she added.
Cabading and Caso were among the country's 30,000 plus college graduates under the government's Expanded Student's Grant-in-Aid Program (ESGPPA).
The ESGPPA aims to contribute in the increase of the number of enrolment in higher education in line with the national government's priority degree programs among poor households, and support college graduates' entry to labor markets through placement assistance.
Under the said program, it ensures that the grantees are enrolled in selected State Universities and Colleges duly recognized by CHED.
Yearly, a student receives a maximum of Php 60,000.00 scholarship grant. This money is broken down to Php20,000 per year for the tuition fee, and Php5,000 per year for the textbooks and other learning materials.
The remaining Php35,000, which is distributed to Php3,500 per month, is allocated for the stipend for the board and lodging, transportation, clothing, health/medical needs, basic school supplies and other related costs.
CHEd Officer-in-Charge Prospero De Vera III said last week students who avail of free tuition must render services to be determined by their universities.
"They are now being paid for by taxpayers' money and it is their responsibility to give back to their community or give back to the nation," De Vera III said.
The return service system was provided under the Implementing Rules and Regulations of the Universal Access to Quality Tertiary Education Act, or Republic Act 10931, which will be implemented this coming school year. (DSWD/JBM)