PAGALUNGAN, MAGUINDANAO — The Department of Social Welfare and Development (DSWD) in Region 12 extended relief assistance Monday to families affected by fresh fighting between military and armed lawless elements in Maguindanao and North Cotabato provinces.
On June 10, the military launched surgical air strikes and ground assault against members of the Bangsamoro Islamic Freedom Fighters (BIFF) in the marshland near the town SK Pendatu in Maguidnanao, leaving 15 armed men dead, eight others wounded and two captured. More than 2,000 families were also displaced, local social welfare officers reported.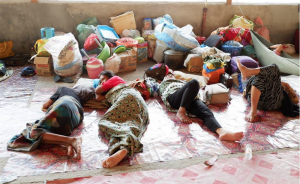 Norhata Benito, DSWD 12 chief of Risk Reduction and Management Section, said around 2,120 families were provided with blanket, hygiene kit and relief food packs.
"Our partners from the local government will continue the verification of internally displaced families," Benito said.
The military's target was the group of Abu Toraife, the leader of the BIFF, a splinter group of the Moro Islamic Liberation Front that is currently engaged in peace talks with Manila.
Toraife split from the MILF when it signed a peace deal with Manila three years ago. The MILF then dropped its separatist bid for an independent state in the south, an idea that did not sit well with Turaipe. He broke away from the rebel chain-of-command and led his followers, who numbered in the few dozens, to press on with the fight. (DSWD- 12 / SMS)