KORONADAL CITY — The World Bank (WB) reported the country's poverty rate declined by 5 percent this year, according to a senior official of Department of Social Welfare and Development.
In their new poverty assessment report released last month, the WB cited  from  2006 to 2015 robust economic growth helped the poverty rate in the Philippines to fall by 5 percent.
DSWD 12 regional director Bai Zorahayda T. Taha said the poverty rate declined from 26.6 percent in 2006 to 21.6 percent in 2015
due to factors like the expansion of jobs outside agriculture, government transfers, in particular to qualified poor Filipinos through the Pantawid Pamilyang Pilipino Program (a conditional cash transfer program), and remittances.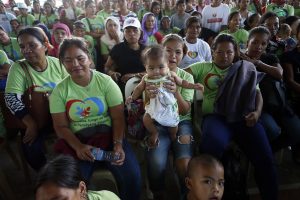 Dir. Taha said the WB based their assessment from the 2015 records where 22 million Filipinos, or more than one-fifth of the population, still living below poverty line.
"This is a good news for us. We thank the World Bank for their assessment," Dir. Taha said.
Mara Warwick, WB country director for Brunei, Malaysia, the Philippines, and Thailand, said their report finds that increased wage income and the movement of workers out of agriculture, transfers from government social programs, and remittances from domestic and foreign sources were major forces in the poverty decline over the past decade.
"This experience gives us hope that the Philippines can overcome poverty," said Warwick.
"With a strong economy, the country is well-placed to end the vicious cycles of unequal opportunity that trap people in poverty, set in place measures to improve service delivery, and boost job opportunities," Warwick added.
In Region 12, over 250,000 families are currently covered by the program also known as Conditional cash Transfer.
Under CCT,  the government allocates monthly grants amounting to P500 to P1, 400 and P 600 rice allowance for each beneficiary household, depending on the number of eligible children. Each family is allowed a maximum of three children to receive the monthly benefits provided they have to stay in school and maintain class attendance of at least 85 percent each month.
At the same time, pregnant women are also required to avail pre- and post-natal care, and delivery must be assisted by skilled health personnel, while parents are mandatory to take "family development sessions" to enable them to become better parents. (JBM/DSWD)