T'BOLI, SOUTH COTABATO  — Like any other poor families in the country, the Malones are not stranger to every life uncertainty.
It's even vivid to Robert Malones, 45, father to six children, about his dark experiences when he was young that until now continue to pops-up every time he is down.
He recalled his relatives and neighbours who were not able to get a degree in college felt they were useless in their community.
That's was the turning point for him to decide to continue his study along with his children as it will pave the way for them to have a better life than that of his illiterate, impoverished family.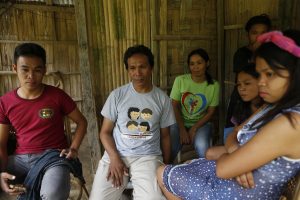 "It's my inspiration," said Malones, now a third year Bachelor of Science Major in Accountancy student at the South East Asian Institute of Technology here, referring to poverty.
"I don't want to get old and my children to suffer. I noticed if you're indigent and grow old you will become useless. That's the reason why we are working hard".
Inside their small-wooden made home where he lives with his wife, Lilibeth, 44; and children Rolie Joan, 21; Mary May, 16; Melquisedec, 15; Aien, 12; Rhodiline, 9; and Harvey Mae, 7; Malones said he cannot imagine how they managed to survive the daily needs with his children all studying, including himself.
"We want grow old not poor. For me, you cannot see and feel the real success in your life if you did not experience the hardship in life," he said.
Of his six children, Aien; Rhodiline; and Harvey Mae, were included in the government's Pantawid Pamilyang Pilipino Program.
He said even they are covered by government programs they don't rely on their grants.
"We have backyard vegetables and root crops. There are times our one full day meal is not complete. But we will not eat root crops all the days of our life. It will just be a chapter of our life now that we are giving priority to studies," he said.
For him, the program fuelled eagerness of their children not to waste the government's opportunity.
"Every member of the family help each other and respects the rights. As parents, we treat our children fair," Molanes explained.
Malones wife, Lilibeth, remembered when her husband opened his desire to continue with his education after he nearly lost his life years back as village council member, she immediately gave a green light even it's still not clear where they will get the money.
"I was employed in pineapple plantation as harvester while he focused on motorcycle driving and sometimes freelance laborer or construction helper," she said.
In a normal day, while everybody were not around, Lilibeth said their third son, Melquisedec, was incharge and overseeing his younger siblings at home.
"My husband and I ensure that they have food during the day," she said.
Rolie, the eldest among the children, is working security guard at night in one of the shops in the town while finishing his last year in criminology course.
His dream is to finish his study and become a regularly police so he can support the education of his siblings.
"My family is my inspiration. I don't care if we are poor today. It's not forever. It's important we have knowledge. The land title can be robbed except our knowledge," he said.
For the family, they are optimistic a drastic change in their life, as Molanes will graduate next year. (DSWD-12/ JBM)