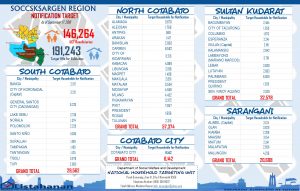 SOCCSKSARGEN – Department of Social Welfare and Development Field Office 12 through the Listahanan or National Household Targeting System for Poverty Reduction (NHTS-PR) is now preparing for the upcoming notification activity of the Unconditional Cash Transfer (UCT) Program.
"To date, a total of 146,264 Listahanan identified poor households will be notified through house-to-house visit starting next month as beneficiaries of the UCT Program," Director Bai Zorahayda T. Taha said.
Taha added that out of the Listahanan identified poor households in SOCCSKSARGEN provinces, 57,374 households are from the province of North Cotabato, 6,142 households from Cotabato City, 20,608 households from Sarangani, 29,562 households from South Cotabato and 32,578 households from Sultan Kudarat.
"The UCT beneficiaries were validated from the 191,243 poor households of 2015 Listahanan database. From the target poor households in SOCCSKSARGEN provinces for validation, North Cotabato with 73,894 households, Cotabato City with 7,833 households, Sarangani with 26,613 households, South Cotabato with 40,097 households and Sultan Kudarat with 42,806 households," according to PPD Chief Sohra P. Guialel.
All the funds for UCT grants are lodged with the Land Bank of the Philippines.  As a result, prior to the implementation of the UCT payouts, DSWD FO 12 officials had a meeting with the Land Bank Managers regarding the different payment methods available and suitable for all the UCT beneficiaries such as the active beneficiaries of Pantawid Pamilyang Pilipino Program, the indigent Social Pensioners of Social Pension Program, and the Listahanan identified poor households. – Director Taha ended.
The UCT refers to the social welfare benefit under the Tax Reform for Acceleration and Inclusion (TRAIN) law or the Republic Act 10963 in the amount of PhP 200.00 per month in 2018; and PhP 300.00 per month in 2019 and 2020.