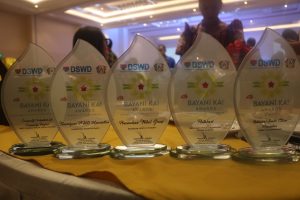 Koronadal City—Five groups of volunteers in Region 12 were given recognition for their dedication to service that facilitates the delivery of social services in their respective communities.
The awards were given during the 4th National Bayani Ka! Awards and 2nd Community Volunteers' Congress recently held in Cebu, gathering some 300 DSWD-Kalahi CIDSS volunteers across the country.
The Pinamulaan Tribal Association, a group of DSWD-Kalahi-CIDSS volunteers from different tribal people of Pinamulaan, Banisilan, North Cotabato is this year's recipient of Promotion of Indigenous Welfare Category.
The group has been instrumental for rekindling 'bayanihan' and serves as the voice of "resettled" Indigenous Peoples to access government's social services and projects that improved the lives of its members.
The Persons with Disabilities (PWD) Association of Tinumigues in Lambayong, Sultan Kudarat received the Bayani Ka! Awards for PWD Category, as recognition for their concerted efforts to promote the welfare of person with special needs sector in town with their outstanding volunteerism works.
For proving that helping community knows no age with their various volunteer works including the facilitation for the construction of Kalahi-CIDSS water purifying project in the village, the Senior Citizen Association of Poblacion I of Lebak, Sultan Kudarat received the Bayani Ka! Awards for Elderly Category.
The group of Manobo volunteers in far-flung village of Datu Wasay in Kalamansig town, Sultan Kudarat was recognized for implementing various DSWD-Kalahi CIDSS projects through 'bayanihan' and promoting community participation, transparency and accountability, received the Bayani Ka! Awards for Promotion of Just Peace Category.
For being an instrument of sustaining the Kalahi-CIDSS projects and model of community-driven development strategy in implementing projects in the village of Sampao, Isulan, Sultan Kudarat, the United Volunteers for Community Progress was awarded as Bayani Ka! for Sustained Community Group.
Gemma N. Rivera, assistant regional director for operation of DSWD 12 said that Bayani Ka! Awards and Community Volunteers Congress is an expression of gratitude of selfless individuals volunteering for the Program and to their communities.
"Our volunteers are important individuals of the Program. For us, they are our new local heroes that are offering their time, talent and treasure without expecting in return," Rivera said.
Bayani Ka! Awards is an annual search for the outstanding community volunteers who are considered as unsung heroes for their extraordinary contributions and dedication to the development of their communities through the country's community-driven development program, Kalahi-CIDSS. (Hilbert T. Estacion, regional social marketing officer)