ESPERANZA, SULTAN KUDARAT – The Department of Social Welfare and Development (DSWD) has started the distribution of cash assistance under its Social Amelioration Program (SAP) to poor households in the Municipality of Esperanza, Sultan Kudarat.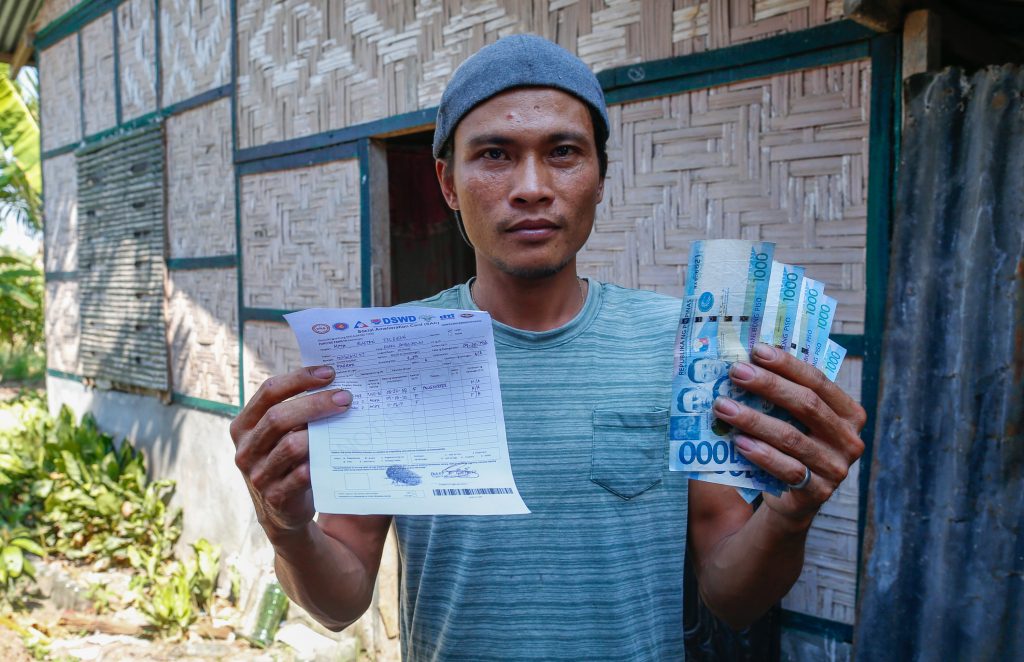 Cezario Joel Espejo, DSWD-12 regional director personally led the house-to-house distribution conducted by DSWD and the local government unit representatives in the remote barangay of Magsaysay on Monday afternoon. He said that the emergency subsidy worth P5,000 cash each for 10,487 households in the town, will cover the month of April 2020.
Another set of cash assistance, according to him, will be given in May 2020 based on the Omnibus Guidelines in the Implementation of Social Amelioration Program, an intervention under the Bayanihan to Heal as One Act (RA 11469) signed by President Rodrigo Duterte on March 25, 2020.
"As promised, the government responded to the needs of the people. DSWD now waits as other local government units (LGUs) in the region are also preparing for their respective poor families to receive the SAP subsidy," Dir. Espejo said.
Among the recipients, Rene Toleron Mata, 28, a farmer and father to two children, thanked the government for keeping its promises to low-income earners like him who are severely affected by the enhanced community quarantine.
"I will buy rice and groceries for my family," he said when asked what to do with the assistance.
Mr. Toleron's neighbor, Rodrigo Inaldo Begenio, 60, shared the same sentiments, describing the government's grant timely since they already ran out of supply for their daily needs during the quarantine.
Government authorities ordered earlier imposition of a community quarantine which primarily aims to cut COVID-19 transmission.
"The money from the government can help us survive the crisis," Begenio said after receiving his money outside their small wooden-made house beside a dried empty rice field.
Regionwide, around 953, 853 households, including the Pantawid Pamilyang Pilipino Program (4Ps) beneficiaries, were targeted as recipients for the program. The 4Ps beneficiaries, who have cash cards, have already received their grants last week – P750 for health subsidy, P600 rice allowance as part of the 4Ps grants and additional P3,650 to complete the P5,000 assistance under the SAP of government.
Dir. Espejo further said the immediate actions of LGUs in complying with the DSWD's necessary documents helped in speeding up the process for funding release.
"We are all public servants and our job is to ensure that the aid goes to the rightful family beneficiaries," he said.
According to Dir. Espejo, the target beneficiaries are those low-income families, assessed to be most affected by the imposition of the community quarantine, given their existing life situations or circumstances. The qualified recipients must belong to the most affected families and poorest of the poor.
At the same time, the household of the target beneficiary must have one family member who is a senior citizen, PWD, pregnant women, solo parent, overseas Filipino in distress, indigenous people, homeless citizen, farmer, fishermen, and self-employed. (JBM / DSWD)