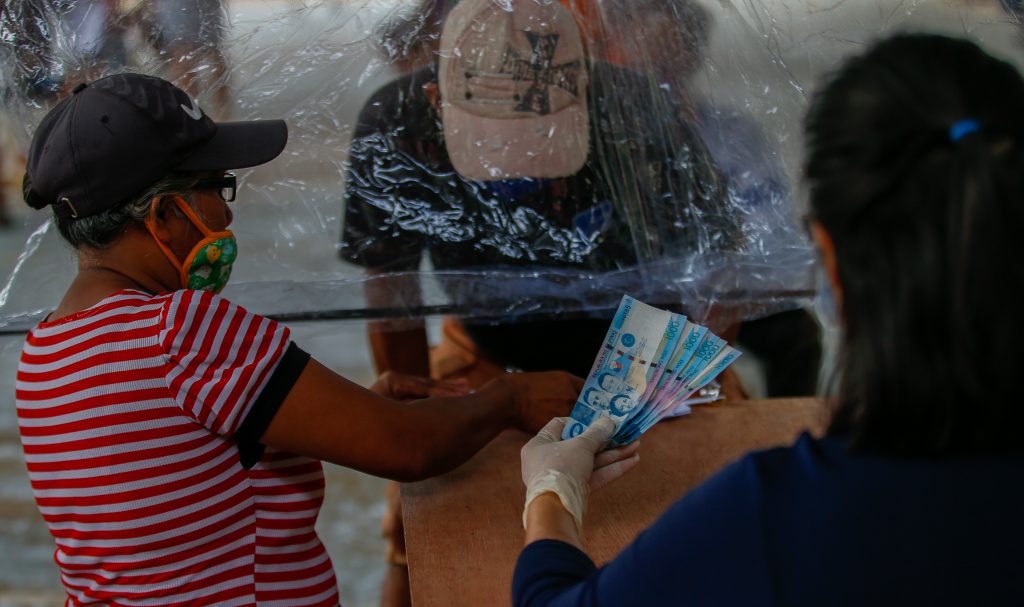 ANTIPAS, NORTH COTABATO – Local government units (LGUs) across the region continues the distribution of government's Social Amelioration Program (SAP) for tens of thousands poor residents severely affected by the community quarantine imposed by government to cut the transmission of coronavirus pandemic.
Municipalities in the provinces of North Cotabato, South Cotabato, Sultan Kudarat, and Sarangani, have set their own schedules since last week for payouts of qualified and eligible recipients of SAP, an intervention handled by the DSWD under the Bayanihan to Heal as One Act (RA 11469) signed by President Rodrigo Duterte on March 25, 2020.
In this town, among those who showed up at the releasing of assistance in Datu Agod, Cadungon and Basak, both far-flung villages, were senior citizens, pregnant women, single mothers, fishermen and farmers.
Teresita Espino Aguilar, 79, was assisted by police and military deployed in Datu Agod to make thumbprint on a legal document upon receiving the money from the government, her advanced age makes it difficult for her to write her name and signature.
"I will use the money to buy medicines for my hypertension," she said in local dialect.
Aling Teresita also called on her fellow poor residents in the barangay to support this effort of the government saying, "let us unite as one to fight against this crisis. This is the time that we should care about each other with compassion."
More than 668,287 target beneficiaries considered the poorest people in the region would benefit the government's intervention.
Cezario Joel Espejo, DSWD-12 regional director, who personally led in the distribution of SAP assistance, said the agency, along with partners from Department of Interior and Local Government and local officials ensure that the aid will be given to rightful beneficiaries.
"We should take this an opportunity to help one another. We are bringing the government closer to the most needy and affected poor families to address their needs in times of crisis like this," Dir. Espejo added.
He said, "let us help ourselves overcome this COVID-19 pandemic by ensuring that the money that our beneficiaries have received will not go to waste. Buy basic food commodities needed by your families."
"We can't see our enemies and don't know where it came from. This is the right time for all of us to unite. Let's set aside politics and follow instructions from authorities," he added.
Dir. Espejo also expressed his sincerest gratitude to members of the Philippine National Police and LGU of Antipas for their support in making sure that only qualified and eligible beneficiaries can avail the SAP.
Last month, authorities imposed a Luzon-wide community quarantine, affecting the public land, domestic air, and domestic sea, including mass gatherings, were banned to cut COVID-19 transmission. The move was replicated by other LGUs outside Luzon as well.
To ease the effects of the enhanced community quarantine that is moving into its second month, the government has approved a P200 Billion funding that will primarily benefit the poorest of the poor sectors of society. (JBM / DSWD)