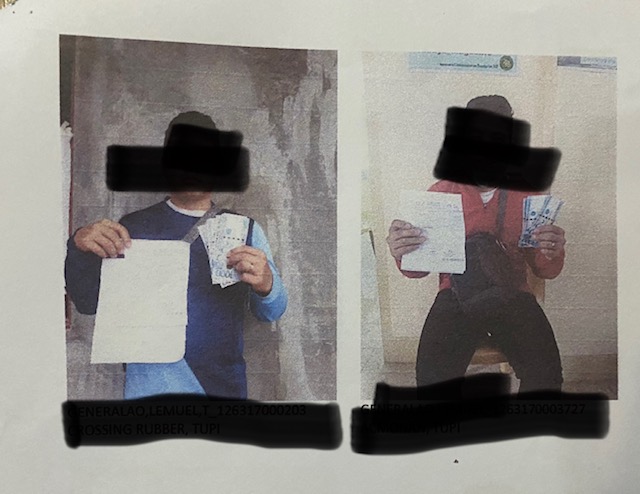 KORONADAL CITY — The Department of Social Welfare and Development (DSWD) has discovered a number of cases where a recipient of the Social Amelioration Program (SAP) received multiple assistance from different villages, a senior agency official announced Wednesday, citing those caught will be dealt accordingly.
Citing initial results from a locally developed application used to track beneficiaries of SAP, Cezario Joel Espejo, DSWD-12 regional director, said that around five personalities from the towns of Tupi and Lake Sebu in South Cotabato Province were found to have claimed financial assistance two times, a clear violation under the Bayanihan to Heal as One Act (RA 11469).
The law was signed by President Rodrigo Duterte on March 25, 2020 to ease the effects of enhanced community quarantine imposed by authorities as part of hard-line measures to contain the spread of the coronavirus pandemic.
Saying the violators may face perjury and estafa charges, Dir. Espejo noted the office is currently checking other lists of beneficiaries submitted by local government units (LGUs) included in their liquidation report for the SAP funds wired to them last month.
According to the agency's chief, a team tasked to review the documents submitted by the LGUs managed to secure pictures and details of the claimants.
"We have already identified some of the perpetrators, and the photos we have of them receiving cash assistance in two different barangays is undeniable. They even had the audacity to use their own names thinking we will not discover this. We will not tolerate this. The agency is going to file appropriate charges against them. " Dir. Espejo said, without providing the identities of the claimants.
"We will further look into possible connivance of these individuals with local officials, it is quite unbelievable that these persons used two names in different barangays but it was not flagged," he added.
Since last month, more than P3.3 Billion or 98. 82 percent were already disbursed for the emergency subsidy allowance based on the latest data from the region tracker, benefiting around 660, 457 poor families region-wide.
The SAP is a program where the agency is at the forefront to support authorities' hard-line measures to contain the spread of the coronavirus pandemic by providing social services to the poor and severely-affected people. (JBM/DSWD)