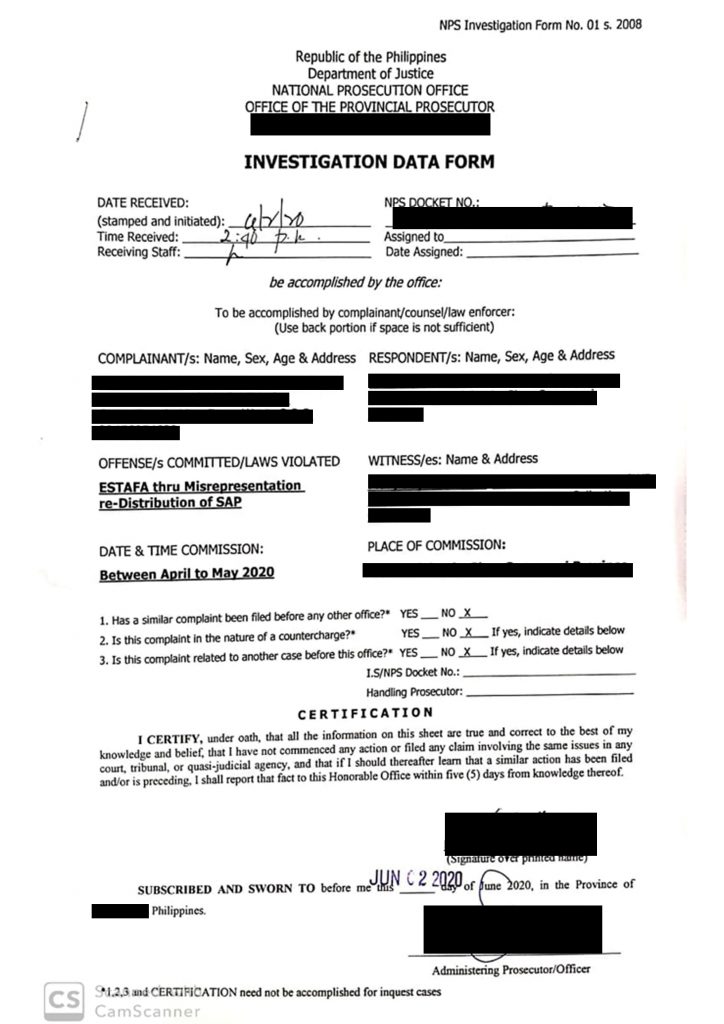 KORONADAL CITY – At least 20 residents across Central Mindanao who received multiple financial assistance under the Department of Social Welfare and Development (DSWD) Social Amelioration Program (SAP) were formally charged in court, a senior government official announced Tuesday.
Cezario Joel Espejo, DSWD-12 regional director, said the Criminal Investigation and Detection Group Region 12 (CIDG-12) filed estafa through misrepresentation against six personalities from Sarangani; eight in North Cotabato; two in Sultan Kudarat and four in South Cotabato, for claiming multiple emergency subsidy assistance at the height of lockdown imposed by the government last month to cut the transmission of Coronavirus.
Citing feedback from the CIDG 12 office, the charges, according to Dir. Espejo, were filed following the recommendation from the DSWD-12.
"We are going to endorse to the CIDG 12 for the filing of similar cases against other recipients found to have received double or multiple assistance from SAP," Dir. Espejo said, without identifying the identities of those facing charges.
The claimants allegedly violated the Bayanihan to Heal as One Act (RA 11469), a law signed by President Rodrigo Duterte on March 25, 2020 to ease the effects of enhanced community quarantine imposed by authorities as part of hard-line measures to contain the spread of the coronavirus pandemic.
Since last month, the agency discovered 209 residents; despite receiving their SAP directly through their cash cards, claimed the assistance.
The controversies were discovered using the region's locally developed application used to track and verify SAP beneficiaries, including their vital information such as names, photographs and their complete address.
The DSWD FO XII is currently conducting validation and cross-matching of 666, 411 poor families region-wide submitted by the local government units. The process allows the agency to track individuals who may have abused the government's program worth P3.5 Billion in funds wired to local government units.
The SAP is a program where the agency is at the forefront to support authorities' hard-line measures to contain the spread of the coronavirus pandemic by providing social services to the poor and severely-affected people. (JBM / DSWD)