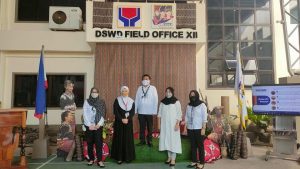 The Department of Social Welfare and Development Field Office XII (DSWD FO 12) launches Performance Governance System (PGS) – a holistic and collaborative framework for designing, executing, monitoring, and sustaining roadmaps that aims to work beyond operational effectiveness and complement process improvements while giving premium to its agency's mandate into a world-class public service.
The creation of this system is rooted in DSWD's Administrative Order (AO) No. 5, Series of 2020, or the Adoption of PGS Pathways, DSWD Strategy Map 2028 and DSWD Governance Scorecards.
One of the highlight of the activity is the unveiling of PGS Pathways Scorecards that was conceptualized in the process of making T'nalak fabric, that requires right focus and attention to details to realize its beauty and purpose.
The Scoreboard is the visual representation of the DSWD commitments, which enabled offices to communicate their deliverables and be more proactive in addressing implementation issues.
DSWD FO 12 commits to increase the capacity of the LGUs on social protection through the functionality of LSWDOs, improve the well-being of its constituents through strengthening social welfare system, regulate SWDAs/SWA to continuously comply with SWD standards and regulations and capacity building and occupational health and safety of personnel.
Regional Director Resty B. Macuto stressed the importance of the workforce in achieving the strategic goals of the DSWD.
"The role of the employees is vital in ensuring the attainment of their office's targets." Macuto said in his opening message.
Moreover, he encourages its personnel to continue seeking ways to become better public servants in line with the theme of the Department's strategic journey of "Make a Mark, Be the Spark," calling on each employee to work together towards a transformed, improved, and brighter quality of service.