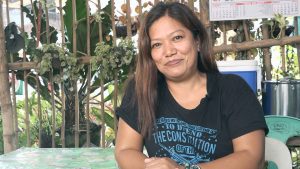 Tacurong, Sultan Kudarat – With the integration of the Department of Social Welfare and Development (DSWD) and the local government unit (LGU) of Tacurong City, a sizable number of individuals and families availed of the various programs of the agency.
One who persevered to forge her own success story is Jocelyn Estrada.
Humble Beginnings 
Jocelyn is forty-three years old, wife to Jerry, and mother to twin brothers, John Jerald and John Joseph. Hailing from Barangay San Pablo, Tacurong City, Jocelyn's family lives simply. Jocelyn's monthly income was P3,000 while her husband earned P5,000 every month. 
Before going through adversity, Jocelyn tried her chances as an OFW in Hong Kong. Luck did not favor her endeavor, her employment ended. After four years, she returned to her hometown to continue supporting her family. 
Following her stint as an OFW, Jocelyn tried everything to earn a living. She used to sell sweetened bananas and camote for refreshments. She even accepted side chores by doing laundry. However, even with this work combination, she can only make P200-P300 daily. This amount was only sufficient to provide for food. Jocelyn and her husband still had to cover other essential family needs particularly that they had two school children. With this sad reality, Jocelyn accepted the fact that her family is impoverished.
4Ps Intervention
A turning point occurred in Jocelyn's life when in 2011 she enrolled in the Pantawid Pamilyang Pilipino Program (4Ps) of DWSD. With the various interventions and implementations of DSWD, Jocelyn developed different skills, developed strategies for her ventures, and even harnessed her own self-confidence.
Other than receiving monetary assistance from 4Ps, Jocelyn became skillful in different fields. When she enrolled in the program in 2011, Jocelyn was immediately tasked to maintain a backyard garden to help their family obtain an added source of food and income.
In the succeeding years, Jocelyn via 4Ps availed of SEA-K 1000. Under SEA-K 1000, Jocelyn's family was able to raise hogs and pigs. They were given start-up money and with the piggery growing, her family's needs were met. Up to this day, Jocelyn and her family continue to operate and maintain the piggery from SEA-K 1000. They were able to take diligent care of the assistance provided to them.
4Ps did not just aid Jocelyn, her husband also availed of skills training in driving. This capacitated Jerry and when he finished the course, driving became his main source of income. Alongside this, Jerry took a skills training in welding.
Earlier, when 4Ps beneficiaries were still allowed to claim other forms of assistance, Jocelyn received the OFW DOLE Livelihood Starting Kabuhayan from the LGU. She utilized this as a starting capital for her entrepreneurial venture.
Moreover, Jocelyn also underwent skills training in pastry and breadmaking. Little did she know that pastry and bread making will become her best earner yet! After her training, Jocelyn applied all her newfound knowledge and started her "Kan-kanin" project. Jocelyn replicated sweet Filipino delicacies like palitaw, espasol, baye-baye, and many more. She started to sell them and eventually this became her main source of income. 
Owing to valuable feedback and word-of-mouth promotion, Jocelyn established herself as one of the best makers of "kan-kanin" in their area in San Pablo. This pushed Jocelyn to open her own food shop called "Jerlyn's Snack House."
Furthermore, Jocelyn's skillsets gradually grew overtime as she took other skills trainings in candy-making and meat processing.
COVID-19 REALITIES
It was all good for Jocelyn until the COVID-19 pandemic turned the world upside-down. Jocelyn's business halted but she did not falter amid this challenge. With the face-to-face restrictions, Jocelyn adapted with the current trend of online selling. 
Jocelyn utilized social media such as Facebook to advertise her products. Moreover, she expanded her business to an "online Talipapa" or fish market. According to her, she did not worry about their day-to-day necessities since her "online Talipapa" was successful.
Upon the lifting of restrictions, Jocelyn returned to her "kan-kanin" business and even ventured into food packs. Jocelyn started to take food bundle orders and because of her good reputation, people started to become avid buyers of her food packs. Presently, she is receiving orders from private companies and even from the LGU.
Jocelyn likewise availed of the Livelihood Assistance Grant. She utilized this to make her business grow even more.
FAST FORWARD TO THE PRESENT 
In the past, Jocelyn only earned P200-P300 daily but now she is earning a minimum of P500. When orders come in bulk, she can make P2000 to P3000 a day.
This is a good leap for Jocelyn and her family. She can now support the education of her twin children who are both in college. Additionally, she was able to put up a vending internet shop. They were also able to purchase a minitruck via installment scheme. Jocelyn's nipa hut has also transformed into a concrete dwelling because of her 4Ps journey and her added skills.
At present, her family funded a farming land to produce sugarcane. Once they harvest all their crops, Jocelyn will be able to earn a hefty amount of money which will be shared with the landowner.
For Jocelyn and family, their life tremendously improved. She can now say that they have surpassed the poverty line. They are now at a level where they can sustain their needs and buy their wants.
On the side, it was not all about money from the 4Ps program that Jocelyn was thankful for, she was also grateful for the PhilHealth subscription. She has a health condition, and she seeks monthly medical aid. The combination of 4Ps and PhilHealth addressed her need for monthly checkups and maintenance medicines.
With 4Ps, Jocelyn and her family's welfare were appropriately looked after by DSWD and the LGU.
In September 2021, Jocelyn and her family graduated from 4Ps. In October of the same year, she attended a graduation ceremony and there, she became a living testimony that when given the right opportunity by the government coupled with the strongest will to advance one's circumstances, one's life can totally change.
Jocelyn's success will resonate with those who are still making both ends meet.